ABM's Encounter Program is designed for selected lay or clergy members of partner churches to come and see what Anglican life is like here in Australia (or another partner country).
While here, they work on their own learning goals and talk to the people they meet about what it is like to be an Anglican in their country and context. It's a mutual learning exchange program which offers a variety of unique opportunities for clergy and lay partner training in Australia.
Short of visiting the Church overseas yourself, talking to someone about their part of the Anglican Communion is probably the best way to understand what it's like to be a part of that Province. Such understanding is two-way, because the Encounter visitor learns about what it is like to be a part of the Anglican Church in their host country.
Encounter visitors normally come to Australia for up to three months, but this can be flexible, depending on resources and visa availability.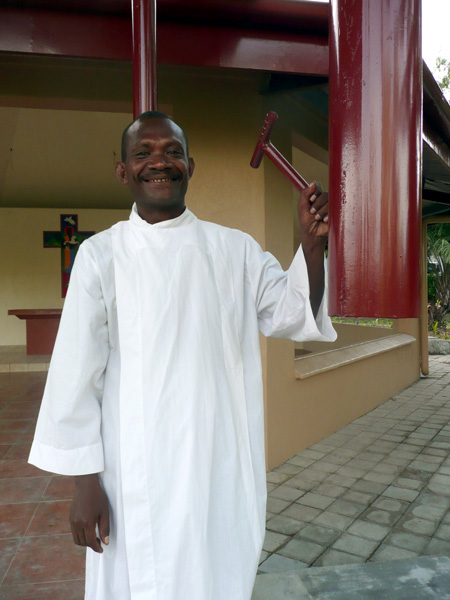 ABM works with the visitors before they arrive in Australia to ensure that any culture shock is minimised. We also work with the host parishes to make sure that everything is organised and runs smoothly during the visit. The aim is to devise programs which transform and enrich both the parishes and the visitors who participate in them.
That way the Encounter's impact is one that is memorable for the Australians and empowers the overseas partners who, we hope, go home with an appreciation of the Australian Church and a new set of skills and knowledge.
Your donation to the Encounter Program will enable these visits to resume after a three-year break caused by COVID-19.
Project Prayer
And the Word became flesh and lived among us … full of grace and truth.
– John 1.14
For us and for our salvation he came down from heaven, was incarnate of the Holy Spirit and the virgin Mary and became truly human.
– from the Nicene Creed
Almighty God, Maker of heaven and earth, of all that is seen and unseen, we praise you that your Son Jesus the Emmanuel, took on flesh and came to be one with us. Through this mystical encounter we have seen you.
We give you thanks for all who support the Encounter Program whether through their donations or by hosting visitors. We rejoice in those who have previously come to share their experiences of church life overseas with people in Australia, and we thank you for all that they have been able to teach us and all that they have been able to learn from us.
May the bonds of affection between ABM and its Partners grow ever and ever closer, drawing us to love one another as truly as your Son loves us.
Amen.
In 2023 we hope to raise for this project:
Donate Online Now
Your gift will help ABM to resource partner churches around the world.
As noted, this is NOT a tax-deductible project.
Gifts are received by the trustee for the 'Anglicans Board of Mission – Australia Ltd' ABN 18 097 944 717
Gifts will be applied to the support of projects selected. In the unlikely event of projects being oversubscribed or not proceeding to completion, donations will be applied to similar projects.