Institutional Strengthening Project
This is an exciting time for AID's partner, the Anglican Church of Papua New Guinea (ACPNG), as it prepares to take over the management of a large government grant for community development activities all over the country.
Part of that preparation involves the church engaging in comprehensive strategic planning and in developing key policies such as Child Protection and Safeguarding of Vulnerable Adults.
Through this project, AID is supporting these vital institutional strengthening activities. The examples below give an illustration of how these activities are combining to strengthen church capacity for community development.
In 2022, ACPNG engaged a Child Protection consultant to conduct an assessment on their child protection policy and practices, which included a desk review and key informant interviews with church leaders and heads of the church's various ministries. Key recommendations included revising the church's Child Protection policy to reflect new national legislation, conduct child protection awareness and advocacy across all ministries of the church, appoint a Child Protection focal person at the church's national office in Lae, and to conduct a mapping exercise to identify child protection services in each province to assist with referrals in cases of abuse.
Following the assessment, the consultant led a workshop for 16 church leaders and national staff, where the findings of the child protection review were presented. The workshop also sought feedback from the church leaders on the current policy and raised greater awareness about child protection principles and behaviour change.
Church leaders and staff were able to discuss next steps in ACPNG's child protection and Prevention of Sexual Exploitation, Abuse and Harassment policies and practices, identify the different national child protection services available to the church for referrals in cases of abuse, and discuss cultural norms that can contribute to child protection failures. These cultural norms include child marriage. ACPNG's Acting General Secretary also shared information on the Anglican Communion's Safe Church Charter.
Participants said that the workshop helped to give them insight on child protection, as well as having emphasised the importance of ACPNG's role in protection of children and vulnerable adults. The most helpful exercise was participants sharing childhood memories and practical examples of creating a safe environment for children and young people. ACPNG looks forward to finalising protection policies.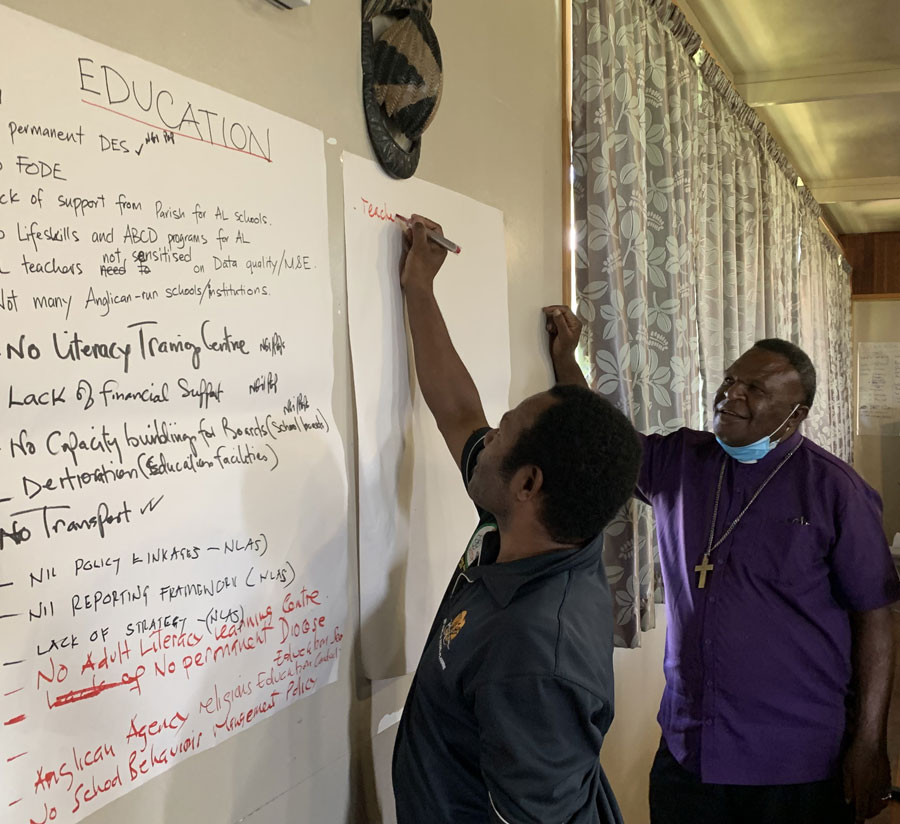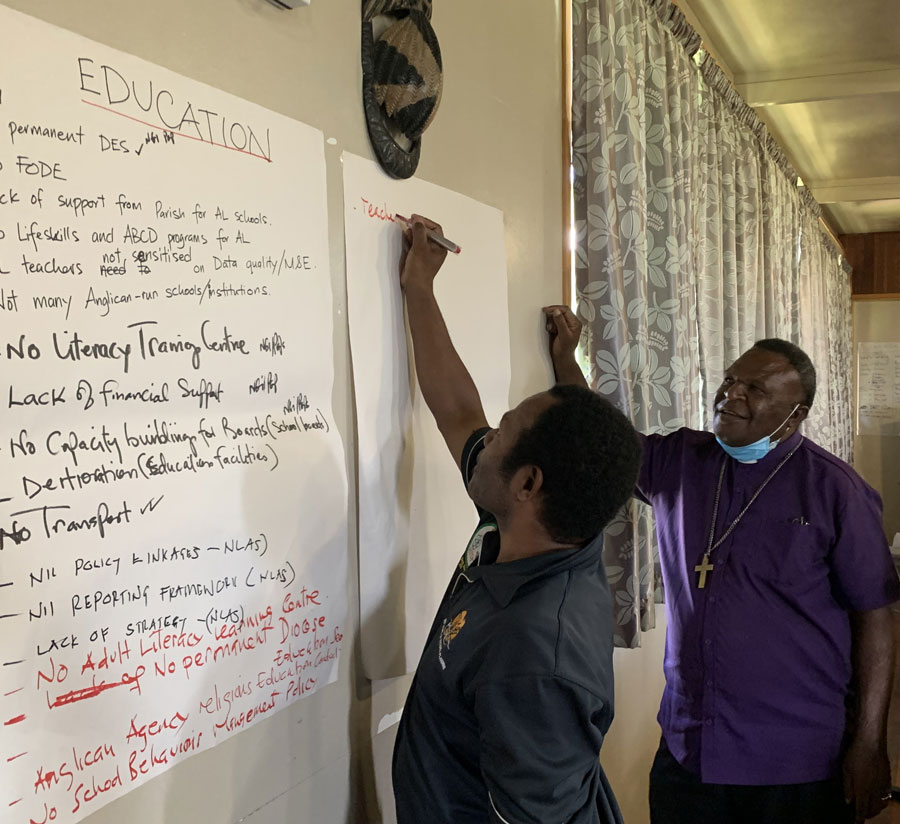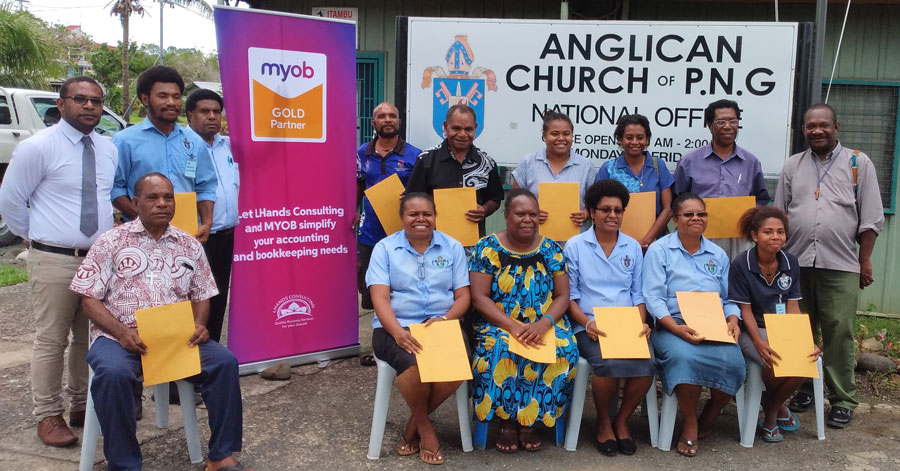 As part of this drive to strengthen its community development capacity, ACPNG also continues to facilitate the community development project management course, Agents of Change, which was developed by the UK Open University for the Anglican Alliance. ACPNG's Capacity Development Facilitator, Fr Peter Moi, (a position funded through this project) recently highlighted two graduates of the Agents of Change course, Dorothy Siep and Emma Maia:
With a background in primary teaching, Dorothy completed Agents of Change in 2017 and the course inspired her to work more closely with her community and to conduct further research on leadership and management through completing an Honours Degree. Dorothy is now the Provincial Mothers Union Secretary for ACPNG and has helped Mothers Union members setup bank accounts and register with the Investment Promotion Authority for Mothers Union entrepreneurial projects. Dorothy also has plans to expand the Mothers Union literacy program in very remote areas of PNG. We will be hearing more about this in the future.
Emma Maia works for Anglicare PNG, coordinating their life skills activities under the Church Partnership Program. Emma participated in Agents of Change in 2019 and comments: "I learned many bright ideas to help broaden my skills and knowledge for implementing life skills activities within church communities and in my personal life. Agents of Change covers all the steps to start up small income-generating projects… and this has helped me generate income to support my family. I am confident that the Agents of Change course will help change many individuals' lives."
Another aspect of this "capacity building" was AID's sponsorship of a young woman member of Anglicare PNG staff to participate in the Pacific Australian Emerging Leaders Summit held in Canberra late last year.
Your support of this project in 2023 will help to fund the church to make further gains on this important journey.
Project Prayer
When Paul had landed at Caesarea, he went up to Jerusalem and greeted the church, and then went down to Antioch. After spending some time there he departed and went from place to place through the region of Galatia and Phrygia, strengthening all the disciples.
– Acts 18.22-23
Spirit of God,
our advocate and guide,
we pray that you inspire and support
the Anglican Church of Papua New Guinea
as it prepares to manage a large government grant
for community development activities all over the country.
Help the Church to ready itself
for this exciting change
through extensive strategic planning
and the creation of good policies and procedures.
We praise you for those who have taken up
the challenge to become Agents of Change
in Papua New Guinea already.
May there be many more who do so
so that their communities may be positively transformed
by creativity and innovation.
This we ask in the name of Jesus Christ our Lord
who with the Father and that same Spirit
lives and reigns for ever and ever.
Amen.
In 2023 we hope to raise for this project:
Donate Online Now
Your gift will be used to help our Sustainable Communities projects planned for this year.
Your donation will help ABM's Anglicans in Development and our overseas church partners work with communities to combat poverty, overcome illiteracy, enable better access to clean water and sanitation, end gender-based violence, build equality, increase resilience to climate change and disasters and strengthen community-level leadership.
As noted, this is a tax-deductible project. All donations are in Australian dollars (AUD) and all gifts of $2 or more are tax-deductible.
Gifts are received by the trustee for the 'Anglicans in Development Ltd' ABN 86 647 293 481
Gifts will be applied to the support of projects selected. In the unlikely event of projects being oversubscribed or not proceeding to completion, donations will be applied to similar projects.
Agents of Change in Papua New Guinea
"The Agents of Change program is actually a God-sent initiative by the Anglican Alliance," says Fr John Madigobuna from St Francis Parish, Koki, Papua New Guinea.