Holy Land: Gender and Nutrition in Gaza
As well as providing regular and much-needed hospital services, AID's partner in Gaza, the Ahli Arab Hospital, reaches out to the most vulnerable people in the community to improve infant nutrition.
The Ahli is now also working with the mothers of those children, as well as with other young women, to empower them with knowledge about nutrition and other health topics, self-esteem, communication skills and dealing with gender-based violence.
The 2023 project will train 25 female community leaders and then support 10 of these women to pass on their community health, community leadership and women's empowerment messaging to 150 other community members.
Shorouq's story is a great illustration of the work that AID is supporting the Ahli hospital to do. She lives in Moghraqa, one of the most marginalised and vulnerable parts of Gaza, where people don't have access to basic services. The only health centre in the district has a shortage of basic equipment, medications, and health staff.
Shorouq is pregnant and a mother of three children. Her daughter Hala, 2 years old, has been screened and was enrolled in the hospital's nutrition programme for three months. Hala was malnourished, was underweight, had stunting and was moderately anaemic.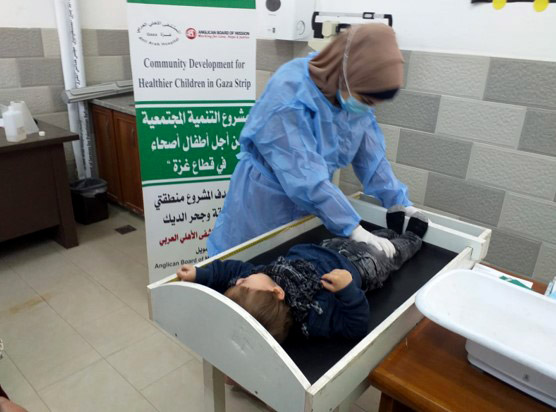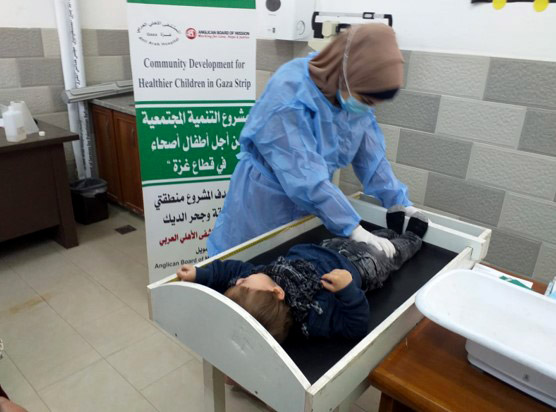 Shorouq is a vulnerable woman whose social and economic situation was deteriorating, since her husband was exposed to an accident that affected his mental health.
Shorouq says, "My husband is unemployed, and we are living in deplorable conditions. We are unable to meet our fundamental demands. We are completely reliant on UNRWA (the UN Relief and Works Agency for Palestinian Refugees) for food assistance, which is insufficient because we also require medicine and cash to purchase other necessities.
"I heard about the free nutrition programme that Ahli Arab Hospital implements. I immediately went to the community organisation where the Ahli staff was receiving the children and performing basic tests and measurements.
"The Ahli was a compassionate and delightful place for us as they cared for my daughter and provided us with the necessary medications, vitamins, and [nutritional] biscuits that supported her quick recovery in a very short period of time.
"I [also] acquired more and more knowledge; my health awareness increased through the Ahli's "woman-to-woman approach". Their community mobilizer visited me twice a month, correcting my misconceptions and wrong health behaviours; and improving my communication skills, and gender and protection concepts. All of this knowledge and skills positively impacted my life.
"When there was a conflict with my husband, I used to seek protection from my father. But, unfortunately, my father never ever supported me because he has a traditional mindset as we live in a patriarchal community and he always said, 'You have to listen to your husband whatever he says.'
"After participating in the individual awareness workshops, I became stronger, I can face the injustice that may occur, and I can protect myself alone. My awareness of my rights and responsibilities was raised; I am capable of solving my problems alone now. I have good communication channels and dialogue with my husband without asking care from my father. And I succeeded to change some negative behaviours for myself and my husband such as helping me in the home, since I have risky pregnancy. I also raised his awareness about his behaviours and how it will negatively impact our life and our children's behaviour, and how it is important to maintain a safe and lovely environment to our children.
"I reflected all of the concepts and knowledge that I had actually received to my husband. We now have effective participation and management in our lives. I have full financial control since I manage the available budget depending on our requirements and priorities, which has never happened before.
"Many thanks to the Ahli Hospital and to AID, and to all the people who care for vulnerable groups and provide assistance to the needy," Shorouq remarked graciously.
Your support of this project will empower vulnerable women like Shorouq, and will give their children a much greater chance of a healthy life.
Project Prayer
If you offer your food to the hungry and satisfy the needs of the afflicted, then your light shall rise in the darkness and your gloom be like the noonday.
– Isaiah 58.10
Most merciful God,
we give you thanks for the work
of the Ahli Arab Hospital in Gaza.
Bless all the staff, patients and others who use their services.
We pray particularly for the work the hospital does
to alleviate child malnutrition
to promote paediatric health, and to
promote the rights of women and children.
God of Isaac and Ishmael,
fast establish the day when all those in Gaza and the West Bank
can live unshackled in freedom and dignity.
This we ask through our Saviour Jesus Christ,
who lives and reigns with you and the Holy Spirit,
One God for ever.
Amen.
In 2023 we hope to raise for this project:
Donate Online Now
Your gift will be used to help our Sustainable Communities projects planned for this year.
Your donation will help ABM's Anglicans in Development and our overseas church partners work with communities to combat poverty, overcome illiteracy, enable better access to clean water and sanitation, end gender-based violence, build equality, increase resilience to climate change and disasters and strengthen community-level leadership.
As noted, this is a tax-deductible project. All donations are in Australian dollars (AUD) and all gifts of $2 or more are tax-deductible.
Gifts are received by the trustee for the 'Anglicans in Development Ltd' ABN 86 647 293 481
Gifts will be applied to the support of projects selected. In the unlikely event of projects being oversubscribed or not proceeding to completion, donations will be applied to similar projects.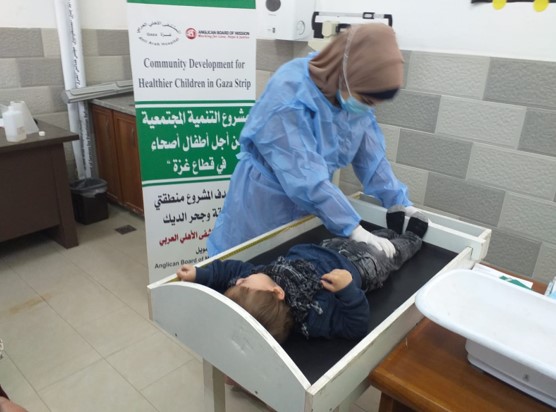 Read the story of Shorouq and Hala
Through the words of a young mother, Shorouq, we gain a glimpse into some of the almost overwhelming challenges faced by families in Gaza, and ways in which AID's partner, the Ahli Arab hospital, is working to address these challenges.