The main purpose of Wontulp-Bi-Buya College is to support the development of Aboriginal and Torres Strait Islander church and community leaders through study programs leading to awards in theology, suicide prevention, addictions management and community development.
"This College is God's gift to our people" says one student from Boigu Island in the Torres Strait. "I was on a little island, and now I can understand the Bible and talk about the Bible. Before, I never knew what the Bible was all about". As well as courses in Theology and Ministry, Wontulp offers courses in Addictions Management, Community Development, and Indigenous Mental Health.
Students in the theology stream study units like Biblical Foundation Stories, Theology of the Holy Spirit, Indigenous spirituality, and Gospel and Culture. They also have access to elective subjects such as Holistic Health, Manage personal and family budgets, and Recognise and respond appropriately to domestic and family violence.
Wontulp-Bi-Buya College provides culturally grounded training, led by Aboriginal and Torres Strait Islander people. Wontulp is a transforming community that empowers people with the faith, vision and skills, and to be effective in building up their people, their church and their community.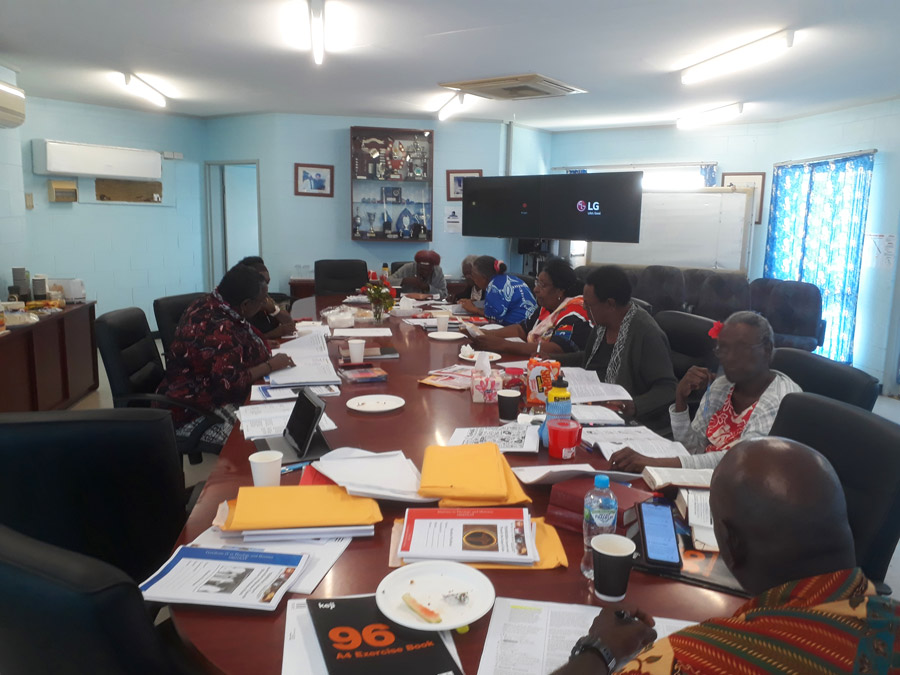 Wontulp-Bi-Buya owns no buildings and operates from a converted church hall in Cairns. College principal, the Revd Canon Victor Joseph, leads the college with much enthusiasm and vision. He is also the priest for Cairns Aboriginal and Torres Strait Islander Ministries.
Your support enables Wontulp-Bi-Buya College to equip Aboriginal and Torres Strait Islander church and community leaders and contributes to the building up of an important institution for the entire church.
For more information, please see this video: https://youtu.be/kk7ubedefVs
Project Prayer
Thanks be to God for his indescribable gift!
– 2 Corinthians 9.15
We thank you, gracious God,
for the gift that is Wontulp-Bi-Buya College
and for its ministry within the wider Church.
We ask you to bless Victor Joseph, the Principal,
and all the staff and students who make up the college.
We pray that what is taught and learnt
is transformational not only for the students
but also for the communities among which they serve.
We pray that your Spirit
will strengthen the students' faith,
sharpen their vision
and bolster their skills
as they study the many courses
that the college offers.
Hear this prayer for your love's sake.
Amen.
In 2023 we hope to raise for this project:
Donate Online Now
Your gift will be used to help support Wontulp-Bi-Buya College to grow its ministry to Indigenous Australians.
As noted, this is a tax-deductible project. All donations are in Australian dollars (AUD) and all gifts of $2 or more are tax-deductible.
Gifts are received by the trustee for the 'Anglicans in Development Ltd' ABN 86 647 293 481
Gifts will be applied to the support of projects selected. In the unlikely event of projects being oversubscribed or not proceeding to completion, donations will be applied to similar projects.