Diocese of the Northern Territory
There are six parishes and nine congregations in the Diocese of the NT which are located on Aboriginal land, led by Aboriginal people and where the gathered people worship in an Aboriginal language.
In such a context, it is no surprise that a deeply held value and aspiration of the people across the whole Diocese is for the Aboriginal churches in our diocese to be strong and recognised as an integral part of our life. With ABM's support, the Diocese has established structures and systems to give Aboriginal Christians a voice and ministry support where they are asking for it.
One example of this is the launch in late 2021 of WALK – a group of Aboriginal church leaders, selected by their parishes to provide a forum for discussing matters that affect the Aboriginal churches and Aboriginal people within the wider Diocese, so that the views of Aboriginal Anglicans are an integral and strong voice into diocesan structures and decision-making processes.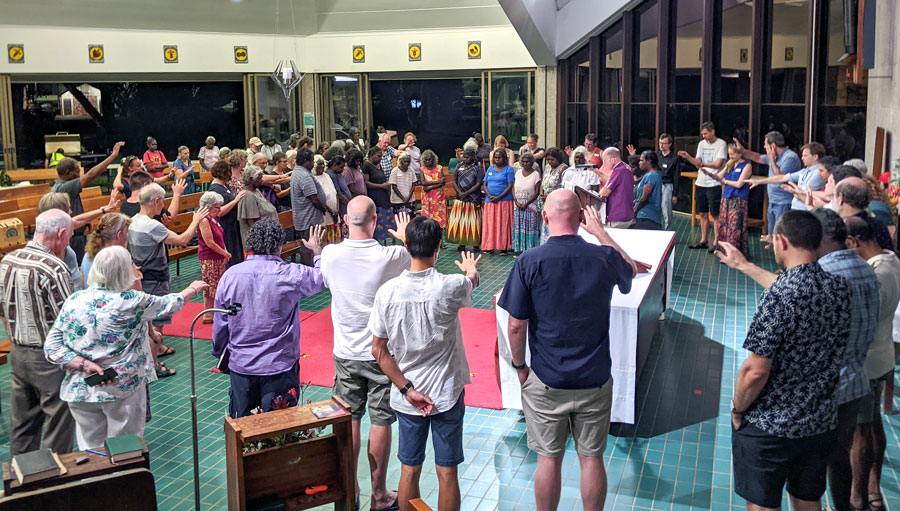 The name for WALK captures two aspects of our hopes and prayers for this group. Firstly, this group will talk together, and be a voice to the non-Aboriginal members of the Diocese. The letters of the name for this group come from the word for "word/story" in each of the four Aboriginal languages spoken in Anglican churches in the NT: W for wed in Kriol; A for ayakwa in Anindilyakwa of Groote Eylandt; L for lhaawu in Wubuy of the Numbulwar region, and K for kunwok in Kunwinjku of the Bininj people of the Gunbalanya region. Secondly, the name: WALK captures the aspiration that this group will be yet another opportunity for Aboriginal and non-Aboriginal Christians to walk together and hear each other.
In addition to supporting the WALK group, your support for the Diocese of the Northern Territory helps to enable other projects and initiatives which support Aboriginal Anglican ministry, including leadership development, and church-strengthening initiatives in these nine remote church centres.
In 2022 we hope to raise for this project:
Donate Online Now
Your gift will be used to help Aboriginal church leaders with vital training and empower them as they minister to their communities.
As noted, this is NOT a tax-deductible project.
Gifts are received by the trustee for the 'Anglicans Board of Mission – Australia Ltd' ABN 18 097 944 717
Gifts will be applied to the support of projects selected. In the unlikely event of projects being oversubscribed or not proceeding to completion, donations will be applied to similar projects.