Vanuatu Program Evaluation 2021
Partner: Anglican Church of Melanesia – Vanuatu (ACOM-V)
Project aim: to improve literacy and numeracy skills as well as improve water and sanitation across targeted communities.
Period evaluated: July 2016 – May 2021
Date of evaluation: June 2021
A closer look at AID's Adult Literacy and Water and Sanitation Project in Vanuatu
Hellen was a 36-year-old marketplace vendor. Inspired to help others, she attended a course in Luganville about how to teach literacy and numeracy. She returned to her community – an Adventist community called Malao – to work as a volunteer teacher.
Helen explained, "This program helped me to understand better the needs of those with low literacy. I learned to have patience with those learning … I am pleased with changes that occur in lives of vendors, especially with understanding numbers." Helen also said she used her new teaching skills to help her own children with their schoolwork.
Hellen's experience was one of many stories heard about the impacts of our Water, Sanitation, Hygiene and Literacy project in Vanuatu during a project evaluation commissioned by Anglicans in Development in 2021.
AID contracted a local evaluator, Avoicee Consultings, to conduct this evaluation. They gathered data on project impacts on five islands across three provinces: Torba, Penama and Santo.
AID acknowledges the support of the Australian Government through the Australian NGO Cooperation Program (ANCP)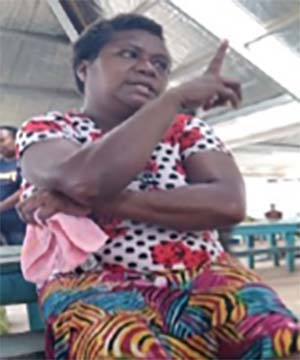 Key Results
ACOM Vanuatu's WASH-Literacy Program from July 2016 – March 2021 reached 37,478 people across 24 communities in the provinces of Torba, Sanma and Penama in Vanuatu.
The church-based delivery structure was appreciated by communities. In particular
Many project activities were organized through church networks at the dioceses level through the regions, districts and parish leaders. These are sustainable communication channels.
The project reached many remote communities that would not have been otherwise reached by government and other partners.
ACOM-V tailors training programs for different population groups through clergy and mission structures.
Key Impacts
WASH
100% of people interviewed as part of the evaluation were able to identify at least one aspect of the WASH (cause, effect, impact) and stated that their understanding had increased as a result of the program. An elderly woman highlighted that as a result of the WASH project, she is now able to collect water right in front of her kitchen instead of walking long distances. ACOM adopted sustainability measures like building local people's skills and working through pre-existing community groups (church groups) so they could continue to maintain community facilities after the project finished.
Gender and social inclusion
Both programs have increased the participation of different groups (women, youth and people with disability) in community activities, including by conducting vulnerability and capacity assessments, awareness raising, training and workshops, on-the-ground actions, and decision making/governance structures established or strengthened to manage community involvement and increase community ownership.
Women in particular were given opportunities to be involved in meetings and take part in decision-making processes including raising concerns about how the program can better support them. The program ensured engagement of the most vulnerable women, address their needs and allowed for more participation in areas that are not traditionally seen as possible for women. For instance, the evaluation findings revealed that women and girls were encouraged to participate in WASH maintenance activities together with men and boys, although such activity was originally only intended for men and boys. Women and girls engaging in such activities, this shows community strength and resilience and the likelihood of project sustainability over a long period of time.
Literacy
Learners who have undergone Language, Literacy and Numeracy (LLN) programs can now lead the prayers in church, read bibles, read responses and further translate this knowledge to their families and children at home. For children, it was noted that their behaviours have changed, as they learn to read and write and understand the content of what they read. Through the LLN programs in Wasaga community, learners were able to teach other community members to build their own house, tables and stools because they could now read and understand instructions. Community members have become more participatory in community meetings, including taking part in decision-making.
One respondent said the community's market vendors were now able to understand how to count money and use numbers during their market sales.
Recommendations
The evaluator suggested that the program could improve in several ways:
Coordination. ACOMV could improve coordination with local organisations. In particular, Government staff could input into ACOM Vanuatu's program planning so the program feeds into provincial and national development planning processes, such as Area Development Plans. ACOM Vanuatu and government staff could even share consistent tools and approaches for monitoring and evaluation. ACOM should consider signing an MOU with either the provincial government, local NGO or local business to support the implementation of activities.
Upskilling community focal points. ACOM-V should consider upskilling community focal points through church-based networks who are based in each of the three locations to implement the activities for them instead of ACOM staff going out to the field or location each time to implement an activity.
Gender. ACOM-V could consider developing a gender action plan to assess how gender can be mainstreamed into program design and implementation.
The challenge is for ACOM Vanuatu and Anglicans in Development to follow up on the recommendations, building on the successes so far in literacy, gender equity and water and sanitation.