COVID-19
Global
Emergency
Appeal
AID has launched a global emergency appeal in response to COVID-19.
AID is helping to equip partners with the resources they need to help communities during this crisis, both in Australia and around the world. We will continue to keep you informed about developments, and how together we can face this crisis.
By late January 2022, COVID-19 had infected more than 366,000,000 people around the world and killed more than 5,600,000. Widespread lockdowns have taken away precarious livelihoods, and informal markets are drying up. Many are living in cramped conditions with no tap water – perfect conditions for a virus to spread. Those who fall to COVID-19 may not even be able to find a hospital bed, let alone a well-equipped hospital.
In this time of turmoil, AID and our supporters stand in solidarity with our church partners and the many millions in developing countries who face this ongoing peril.
During these uncertain times, and as we seek to understand and as we feel the impact of COVID-19 ourselves here in Australia, AID continues to be in contact with our Overseas Partners to assess and respond to this crisis. Partners are working hard on information campaigns to mitigate COVID-19's spread and make relief distributions to mitigate its economic impacts.
AID originally launched our COVID-19 Appeal in April 2020 but the ongoing health and economic impacts around the world demand that we continue this appeal. Funds raised so far have been used to support relief distributions in Myanmar, Sri Lanka, India, Kenya, Cameroon, Guinea, Mozambique, South Africa, Ethiopia, and the Democratic Republic of Congo. Funds have also been used to support COVID-19 awareness-raising across many Asia-Pacific countries. For more details, see this Dec 2021 update.
AID seeks your support so that together we can support our partners to help those less fortunate who need medical supplies to combat this disease and economic opportunities to replace jobs lost due to COVID-19.
It is a challenging time for all of us, but we want you to know that we are here for you with love and faith as always. Thank you again for being a part of our community.
Please note that all donations are tax-deductible.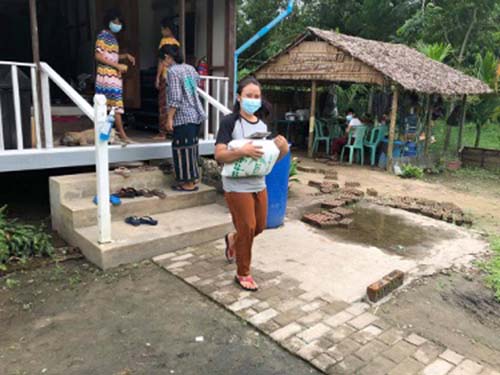 Our aim for this appeal is to raise:
Donate Online Now
We appreciate your gift to the COVID-19 Global Emergency Appeal. It will provide urgently needed help to those affected by this disaster.
As noted, this is a tax-deductible project. All donations are in Australian dollars (AUD) and all gifts of $2 or more are tax-deductible.
Gifts are received by the trustee for the 'Anglicans in Development Ltd' ABN 86 647 293 481
Gifts will be applied to the support of projects selected. In the unlikely event of projects being oversubscribed or not proceeding to completion, donations will be applied to similar projects.
Please Donate Responsibly