Post-Pandemic Livelihoods Recovery Project (E-CARE)
"The devastation caused by the pandemic now calls for a recovery program to bring the partner communities not only to pre-pandemic levels but to a qualitatively better state", writes AID's partner, E-CARE about their new three-year project.
AID (and ABM) have been partnering with E-CARE since the mid-1990s and during that time we have engaged in much mutual learning. E-CARE is strongly focussed on sustainability, and has developed a "Receivers to Givers" approach which enables funds for community projects to be recycled to increasing numbers of community groups. Once a group has finished with the funding provided by E-CARE, they are encouraged to gift the funds to another group starting out.
E-CARE has also been focussing on its own self-reliance as an organisation – providing a great model for community self-reliance – and hopes to achieve this in the next few years.
This phase of the project will enable communities to be more sustainable, resilient and climate-responsive.
E-CARE will train 15 community organizations (comprising 1,555 people) to ensure that their group strategic plans are on track and their day-to-day operations are effective, prior to transitioning to the Receivers to Givers program.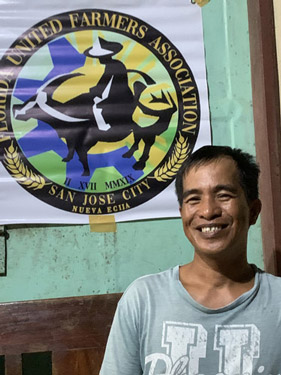 Last year, this project supported 250 people from 24 communities to develop their long-term community Strategic Plans via a series of five-day workshops. They also learned about Enterprise Development and Growth, Advanced Finance Management, including Cash Flow Projections and Profit and Loss Statements. This training has already enabled those communities to increase their household incomes during a time of economic stress. Other trainings were held in environmental stewardship, human rights, peace and justice, child rights and the rights of Persons with Disabilities. With a target of having 50% of community leadership roles held by women, gender equality sensitisations have also been a focus of the project.
This latter part of the project will see three community-based solar powered water pumps installed for irrigation and/or domestic use by community members.
Your gift will contribute to building 15 more sustainable rural communities in the Philippines.
Every donation you make to this project will be combined with funding from the Australian Government to reach more people. We have committed to contribute $1 for every $5 we receive from the Australian Government. Your donation will allow us to extend our program.
Project Prayer
The Lamb at the centre of the throne will be their shepherd, and he will guide them to springs of the water of life.
– Revelation 7.17a
God of love, hope and justice,
we give you thanks and praise
for the transformational "Receivers to Givers" philosophy
embodied by the Episcopal Church in the Philippines'
Episcopal Community Action for Renewal and Empowerment (E-CARE).
As Anglicans in Development partners with them
in their post-pandemic recovery program,
we pray that each community can not only recover
but grow and flourish.
We ask for your blessing to help the fifteen community organisations
in their strategic planning and effectiveness
so that they can become sustainable.
May the community-based solar powered water pumps
allow their fields and families to
grow and prosper.
Hear this prayer for your love's sake.
Amen.
In 2023 we hope to raise for this project:
Donate Online Now
Your gift will be used to help our Sustainable Communities projects planned for this year.
Your donation will help ABM's Anglicans in Development and our overseas church partners work with communities to combat poverty, overcome illiteracy, enable better access to clean water and sanitation, end gender-based violence, build equality, increase resilience to climate change and disasters and strengthen community-level leadership.
As noted, this is a tax-deductible project. All donations are in Australian dollars (AUD) and all gifts of $2 or more are tax-deductible.
Gifts are received by the trustee for the 'Anglicans in Development Ltd' ABN 86 647 293 481
Gifts will be applied to the support of projects selected. In the unlikely event of projects being oversubscribed or not proceeding to completion, donations will be applied to similar projects.