Community Capacity Enhancement Project (E-CARE)
Do you want to see what happens when people work together and are supported to build on their own strengths?
Three years ago, ten women and three men from the Philippines' Isabella region pooled their capital (totalling the equivalent of $1,000) and formed Purok ni Bulan Neighborhood Association with the aim of improving their collective rice production. To date, this community-based group has increased their capital to over $8,000.
The group is a mix of small-holding rice farmers, farm workers and farm managers. As individuals, they often relied on borrowed capital and high interest rates to earn their livelihoods.
AID's partner, E-CARE, supported the group for one year with training to enhance their knowledge and skills. The group then decided to become involved in E-CARE's "Receivers to Givers" program which enabled them to access further capital. The additional capital is paid back each time, and the group gets to choose another group who then receives a capital grant. They did this six times! And by mandating a 10% savings component, they were able to see their capital grow eightfold over time.
Inaugural chair of the association, Samson Ulban, a Pentecostal Church minister, says, "Many lenders come to offer financial services, but they only care about doing business…This program teaches partners to become 'receivers to givers' to also help others."
Current chair, Manang Nora Tegui-ing, adds, "Unity and discipline keeps the association active and growing!"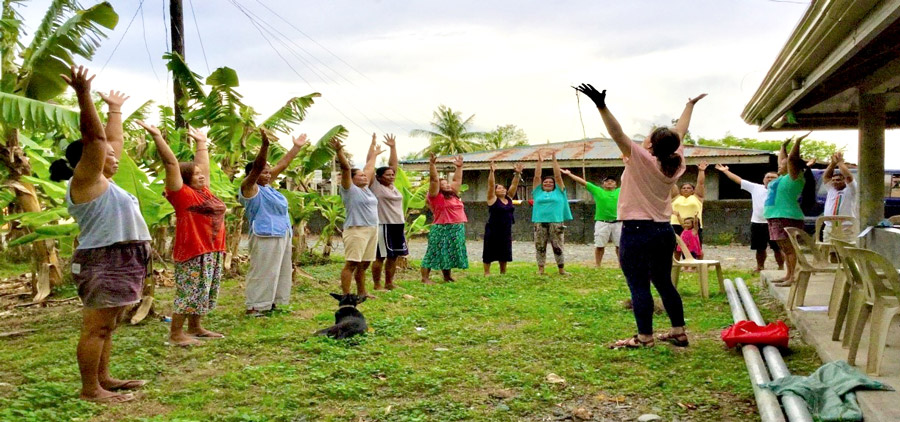 Jenny Miage, the association's book keeper, says, "I feel happy, the project provides many things. It helps us make savings, without realizing… It improves personal relations among members…I also realize doing financial work is difficult, but through trainings, I am learning how to prepare financial records!"
E-CARE works with this and 25 similar organisations, providing training and access to the "Receivers to Givers" program to assist them to realise their vision to become fully self-reliant and stable community organizations.
Every donation you make to this project will be combined with funding from the Australian Government to reach more people. We have committed to contribute $1 for every $5 we receive from the Australian Government. Your donation will allow us to extend our program.
In 2022 we hope to raise for this project:
Donate Online Now
Your gift will be used to help our Sustainable Communities projects planned for this year.
Your donation will help ABM's Anglicans in Development and our overseas church partners work with communities to combat poverty, overcome illiteracy, enable better access to clean water and sanitation, end gender-based violence, build equality, increase resilience to climate change and disasters and strengthen community-level leadership.
As noted, this is a tax-deductible project. All donations are in Australian dollars (AUD) and all gifts of $2 or more are tax-deductible.
Gifts are received by the trustee for the 'Anglicans in Development Ltd' ABN 86 647 293 481
Gifts will be applied to the support of projects selected. In the unlikely event of projects being oversubscribed or not proceeding to completion, donations will be applied to similar projects.